Quasi-daily thoughts. No cute taglines.
Saturday
July 9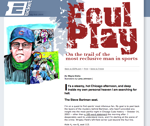 ESPN.com debuted a new section this weekend called "ETICKET", featuring an article about infamous Cubs fan Steve Bartman. While I didn't really read the article, I was immediately impressed with its design.
It is incredibly uncluttered. No ads, no links to the fifty million other pages on ESPN. Just the content you want to read, and some nice illustrations. It's a rare find on the commercial web nowadays.